Post by Kentucky on Aug 2, 2019 22:12:15 GMT
The Scoop
The Department of Defense. As you may have surmised, this second section on professions is focused entirely on the US Armed Forces. They are the world's largest military in personnel, equipment, and budget. They employ paid volunteers, American and foreign. Every American knows at least one person who has served. It offers education, training, travel, and other opportunities that wouldn't otherwise be available to many Americans.

However, there's a plague stretching out through it. Besides the terrifying, unseen unnatural phenomena in the deserts of the Middle East, a more personal threat resides; post-traumatic stress disorder. Stress, late nights, lack of sleep, micromanagement, and combat catch up to people. The military provides mental health resources but they are often not enough to stop a soldier from removing themselves from society. Alcoholism, insomnia, and paranoia are only some of the burdens to bear for those soldiers afflicted with PTSD. Relationships suffer; after all, those without the illness could never understand someone with it. It's not their fault... but the rift is there all the same.

In today's post 9/11 world, the military has been at war for a long time. The War on Terror. The successor to the failed War on Drugs, the War on Terror appears to be going the same route. Whether your opinion on it, it's happening right now and it doesn't look to be letting up. In 2001 the US invaded Afghanistan in a conflict with Islamic State, al-Qaeda and the Taliban that still goes on to this day. In 2003, they invaded Iraq to combat the Islamic State of Iraq, al-Qaeda, and the Ba'ath Loyalists. This ended in 2011. There's the war in Northwest Pakistan, where Americans fight alongside Pakistanis against the Taliban and al-Qaeda in a conflict that began in 2004 and still goes on to this day. In Somalia, the US intervened in the civil war in 2007 for the second time, still ongoing. So much conflict; so little time.

Once again, special thanks to the Delta Green Agent's Handbook and Delta Green: The Complex for the following information. Without further ado, we begin with a holistic approach; The Department of Defense.

---
The Department of Defense (DoD)
The Department of Defense is composed of three main branches; the Army, the Navy, and the Air Force. The Marine Corps falls under the Department of the Navy and the Coast Guard is under the Department of Homeland Security, though it is under Navy control in war time. Each of the three main branches has a specific mission. The Army is land; the Navy is maritime; the Air Force is sky. The President of the United States (POTUS) is the commander-in-chief and Congress has the funding and oversight as well as the power to declare war. Each branch is headed by a single civilian secretary. The President and Secretary of Defense are advised by the seven-member Joint Chiefs of Staff, which includes the head of each of the service branches and the chief of the National Guard Bureau. The Commandant of the Coast Guard is not a member of the Joint Chiefs of Staff. The Army, Navy, and Air Force operate hundreds of bases around the world which serve as crucial forward locations to allow the US military a global reach. Each base falls under the joint authority of regional Combatant Command, which is also responsible for the strategic movement of units in area. The budget for the DoD was over $600 billion in 2015. That includes the service branches, intelligence, and all other components.
DoD operatives don't usually have the power of arrest, but certain specializations such as military criminal investigators and military police have jurisdiction over personnel or actions on bases. These types have limited amount of funding and are expected to carry weapons while in combat or on guard duty. In the military, rank and seniority are crucial. Lower ranks can hardly call for important tasks such as drone strikes or satellite imagery without approval from an overseeing officer.
The US service branches are massive and complex bureaucracies. There are multitudes of interlocking responsibilities and complex reporting requirements. The service branches work together under the Unified and Geographic Combatant Commands (COCOMs). Some Combatant Commands are regionally focused, such as EUCOM covering Europe and PACOM covering the Pacific. Others are functional; STRATCOM coordinates the use of and defense against strategic weapons; TRANSCOM coordinates joint service logistics and transport. The Unified Combatant Commands are second only to the individual services themselves in budget and authority. These also host interagency and international personnel, such as from NATO-allied countries.
Component commands encompass specific services in their regions. EUCOM, for example, holds component and major commands for the Army (US-AREUR), Navy (NAVEUR), Air Force (USAFE), and Marines (MARFOREUR). The chain of command goes from the President to the Secretary of Defense to the Combatant Commanders and then on to the Component Commanders and specific units. The DoD Unified Component Commands are Africa Command (AFRICOM), Central Command (CENTCOM), European Command (EUCOM), Northern Command (NORTHCOM), Pacific Command (PACOM), Southern Command (SOUTHCOM), Special Operations Command (SOCOM), Strategic Command (STRATCOM), and Transport Command (TRANSCOM).
The DoD also holds many intelligence agencies under its wing. These agencies will be covered under another profession section,
INTELLIGENCE AND DIPLOMACY.US Military Operatives
US Military personnel respect hierarchy and authority. Many younger members use it as a bridge between high school and their adult careers. Generous training and educational benefits encourage recruitment and most service members enter with a sense of the importance of discipline and patriotism. All service branches delineate between enlisted personnel and commissioned officers. Officers hold command and oversight positions, while enlisted personnel perform specializes jobs. The Army and Navy employ warrant officers for jobs that require highly specialized or technical training, such as counterintelligence agents and helicopter pilots. Warrant officers are ranked above
enlisted personnel
but below
commissioned officers.
It is common for a Marine to serve with the Army or a sailor to work within the Air Force; interoperability is key. These assignments were once career dead-ends but are not important learning processes.
The DoD's mission is to fight wars and support civilians in times of emergency. The military's mandate is protection of the US and its allies worldwide and it maintains a strong domestic logistical network. In practical terms, the military usually focuses on areas outside of the United States. Federal law restricts deployments inside the US, including the use of military personnel to support law enforcement. The National Guard is often deployed in national emergencies and natural disasters, but only with the permission of the state's governor. Most Americans would be quite alarmed to see military personnel with weapons operating within their communities unless it were a dire situation. Domestic deployments are handled through USNORTHCOM (US Northern Command), the Coast Guard, and the National Guard.
There are three types of official travel away from a home, a duty location, or a base. The first type is a regular deployment, usually involving traveling as a unit for six months or more at a time. These are normally for training, routine repositioning, or patrols. The second is combat deployments, which are high in tempo and the unit is sent to an active combat zone. Here, communications with friends and family becomes less reliable. Combat deployment also sees a sizable increase in the service member's take home pay. There are also Temporary Duty assignments (TDY or TDA) which are for usually less than two months. They are not often done as a full unit. Travel for consultations, conferences, or support of another unit or base (not in combat) is done through the TDY process. The approach to deployments and temporary duty assignments varies greatly from service to service. Bureaucracy, oversight rules, and budget problems often make official travel onerous and delayed.
The military tightly restricts travel funding. Officers have more control than enlisted personnel and the choice of when and where to travel. Incessant bureaucratic checks leave an extensive paper trail for travel and purchases. The exception to this is clandestine or counterterrorism operations, where bureaucratic red tape shortens and personnel have more autonomy. Military personnel in domestic TDY assignments sometimes support law enforcement or intelligence organizations when national security is involved. This is usually behind the scenes, such as logistical support in the form of space on an aircraft or access to bases and DoD facilities. Intelligence can also be provided to law enforcement agencies. The DoD can also provide personnel to non-combat situations, such as sending a judge advocate general (JAG) to advise on a criminal case or an interrogator trained in a rare language.
The military does not work well with other parts of the government. In every service there are individuals available to handle nearly any type of event. A service is reluctant to seek assistance from outside itself as culture clashes are frequent. Many members adopt antagonistic "prove it" attitudes towards members of other services and other government agencies. Many US government professionals, particularly those with no service background themselves or in their family, see service members as standoffish or aggressive. The State Department in particular has a reputation for poorly dealing with the military on a personal level. Despite the previous, promotion into senior military ranks requires working outside of the member's service; this promotes cooperation.
Crimes on military bases usually mean a joint investigation; the Naval Criminal Investigative Service (NCIS), Air Force Office of Special Investigations (AFOSI), or the Army Criminal Investigation Division (CID) working with local law or the FBI. Military criminal investigative services are generally smaller than their federal counterparts. Lack of funding means they often must rely on help from agencies like the FBI. This often bolsters confidence between the two, but it just as often creates resentment. Some FBI agents view military investigators as out of their depth, and the latter sometimes views the former as unhelpful.
Plenty of service members are in non-combat positions. Human resources, construction workers, dentists, bureaucrats, police, and the like probably pass for civilians. They write reports on computers, look forward to vacation days, and worry about their parking spots. Where they differ from the civilian world is in the pay, the benefits, the hierarchy, and the jargon. The military places a much stronger emphasis on chain of command than the civilian world. A person's rank is the utmost importance in military culture. Patches and insignia on uniforms advertise where that person falls in the hierarchy and gives a general idea of what someone does. All personnel are expected to refer to senior in ranks as either "sir" or "ma'am." Even the aforementioned civilian personnel are expected to understand this, but they are not expected to salute. Besides that, the military loves another thing; specialized jargon, slang, and acronyms.
Every branch of the military promotes teamwork. Every member is a unit and is responsible to that unit; if a person doesn't buy into that, life becomes misery and misery loves nothing more than company. With hierarchy comes bureaucracy and no one does bureaucracy like the US military. The paper work can be a labyrinth; there's a form for every little thing and the staff isn't likely to be helpful unless you're a colonel or above. Outside of specialized sections like the NSA, their computer systems are often decades out of date.
Those in combat position are of a breed apart. They may have seen multiple tours and lived for many months under extreme pressure. There is no civilian counterpart to what you do. The closest is law enforcement, which is why many combat personnel end up working the force. They identify with other combat veterans and tend to value their opinions over others. In a combat position, they spent their days training and preparing. When they aren't training, they are sleeping, eating, or deployed. Units train together and are deployed together. Constant and realistic training makes the military formidable. Personnel are expected to understand equipment intimately. They've disassembled and reassembled their weapon so many times they dream about it. Training builds mental strength and muscle memory. It makes even the most complex tasks routine, even under the extreme pressure of combat. It builds instincts and mental toughness that help them survive combat.
"People sleep peaceably in their beds at night only because rough men stand ready to do violence on their behalf."
- George Orwell
"We sleep safely at night because rough men stand ready to visit violence on those who would harm us."
- Winston Churchill
---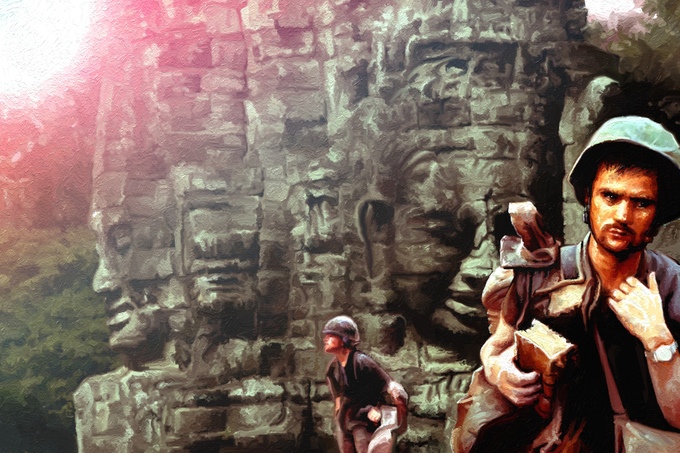 The U.S. Army
The US Army seizes and holds terrain. This is their primary mission as the largest and oldest of the military branches. The Army integrates air assets, armored vehicles, infantry, and artillery. It is well-equipped, especially compared to most other militaries, and it excels in the logistics of moving, supplying, and coordinating large numbers of soldiers and support units. The budget for the Army is around $250 billion in the current day.
Army personnel, including reserves, National Guard, and civilian support, make up over a million people. The Army is made of three components; the active component (the regular Army) and the two reserve components (Army National Guard and Army Reserve). The reserve components are primarily composed of part-time soldiers (perfect for
Delta Green
). The National Guard is organized, trained, and equipped as part of the US Army, but when it is not in federal service it is under the command of state governors. The Army is divided into specialized branches such as artillery, infantry, aviation, the Signal Corps, the Corps of Engineers, special operations forces, and armored vehicles. The Corp of Engineers (USACE) has a large peacetime mission support federal and state construction projects.
Army Operatives
A member of the Army is called a soldier or, unofficially, a grunt. It boasts uniformed personnel of all types from human resource specialists to veterinarians, police, and traditional warfighters. The Army employs many civilians in highly skilled support roles and office-management jobs. Basic training for uniformed personnel takes ten weeks, including combat training. Basic training is followed by Advanced Individualized Training (AIT), where soldiers receive training for Military Occupational Specialties (MOS). In combat situations the Army fields a four-soldier fire team as its smallest grouping; a team leader, a rifleman, a grenadier (equipped with a rifle and grenade launcher), and an automatic rifleman (equipped with a light machine gun). Other units include sniper teams (two soldiers), explosive ordnance disposal teams (one to three soldiers), engineers, cavalry scouts, and others.
Army veterans know they are the core of the largest and most powerful military in the world. A powerful esprit de corps is inevitable. Many soldiers, even those that never see combat, believe they are combat ready. Combat veterans themselves tend to be clannish, gravitating towards one another in a spiraling subculture. For many soldiers, even veterans, the Army is a stepping stone to other careers. Those who stay in the army for life tend to appreciate the discipline, camaraderie, purpose, and stability.
Example Professions

US Army Medical Research Institute of Infectious Diseases (USAMRIID)
- USAMRIID (pronounced "you-sam-rid") combats the use of biological agents in warfare. The Institute, as it's called, cooperates closely with the FBI and CDC. They have a large library on infectious diseases and biowarfare and samples of the deadliest microorganisms in the world.
902nd Military Intelligence Group
- Analysts of the 902nd advise and support counterintelligence, counterterrorism, and counterespionage operations.
10th Mountain Division
- The 10th Mountain is designed to deploy quickly in force to austere environments, especially mountainous and arctic terrain.
1st Brigade, 1st Cavalry Division
- A long-range surveillance and recon force.
Army Medical Corps
- The Corps consists of experienced primary care physicians that can be forward deployed or attached to units in the field. This is distinct from medics, who deploy at the squad and platoon level and are not part of the Medical Corps.
"War is not just the shower of bullets and bombs from both sides, it is also the shower of blood and bones on both sides."
- Amit Kalantri,
Wealth of Words

---
The U.S. Air Force (USAF)
The United States Air Force secures air superiority and provides air support to ground forces. It operates the world's most advanced aircraft, missiles, and communication equipment. It also is responsible for nuclear deterrence, special operations, cyberspace, wireless communications, data management, and missions in space and low-Earth orbit. The budget is approximately $170 billion in the current day.
The Air Force has over 300,000 uniformed personnel, 185,000 civilians, and almost 200,000 reserves and National Guardsmen. It is made up of an active component, the Air National Guard, and a Reserve. The active Air Force includes a complex network of commands. The Air Combat Command controls the air-superiority forces. The Global Strike Command controls bombers and strike wings. Other commands include the Reserve Command, the Space Command, Special Operations Command, Air Mobility Command, the United States Air Forces in Europe, Air Forces Africa, the Pacific Air Forces, and others.
USAF Operatives
A member of the Air Force (of either gender) is called an airman. The many officer specialties include combat systems officer, intelligence officer, judge advocate general (JAG), and medicine. Officer and enlisted operational fields include computer specialties, mechanic specialties, cyberspace operations, avionics technicians, medical specialties, civil engineering, public affairs, law, drug counseling, and search-and-rescue specialties. Other careers include civil engineers, vehicle operators, and Air Force Office of Special Investigations (AFOSI). Beyond combat flight crew personnel, USAF specialists include pararescue, security forces, combat control, meteorologists, and special operations units who disarm bombs, rescue downed or isolated personnel, call in airstrikes, and set up landing zones in forward locations.
Pilots are the princes of the Air Force and there is little to dissuade their brash personalities. There is nothing more miserable than a pilot at a desk. Airmen are often drawn to the high technology of the USAF, attracting to aspiring engineers and airmen pursuing specialized technical careers. Airmen have a reputation with the other services for being part of the "Chair Force," being a "country club," and overvaluing comforts. Members of the Air Force see themselves as the most progressive and technologically advanced service branch.
Example Professions

41st Rescue Squadron -
The 41st specializes in combat rescue of downed aircrew behind enemy lines using advanced (and aggressive) flying techniques. The Squadron also provides pre-launch surveillance and after-mission astronaut recovery for NASA.
614th Air and Space Operations Center
- The 614th is part of Air Force Space Command (AF-SPC). The 614th provides command and control as well as space asset (satellite) coordination for the Joint Space Operations Center (JSpOC). Members of the 614th work closely with NASA and other branches of the military in Cheyenne Mountain.
432d Operations Group
- The 432d operates remotely piloted aircraft, also known as drones. While the drones operate around the clock across the globe, the pilots work from Creech Air Force Base in Nevada.
70th Intelligence, Surveillance, and Reconnaissance Wing
- The 70th supports the Air Force and the wider intelligence community with cryptologic and signals intelligence. It is stationed at Fort Meade in Maryland.
354th Fighter Squadron
- Specializes in close air support (CAS) using the tough A-10. The 354th is based in Davis-Monthan Air Force Base in Arizona.
318th Cyberspace Operations Group
- An operational group of US Cyber Command (US-CYBERCOM), the 318th develops new technologies and tactics in information and cyber warfare.
"Some days I miss flying so much it makes my entire chest hurt, feels like I can't breathe sometimes. I try not to think about the fact that I'll never have thousands of feet of air between me and the ground again. But it's those times that I have to remind myself that at least I got the chance to do it sometime in my life. A couple dozen solo flights are better than having never done it at all." - Keary Taylor, What I Didn't Say
---
The U.S. Navy (USN)
The Navy is a fighter from the high seas to the curling rivers to the offbeat coasts. It projects force from international waters, protects international shipping lanes, and responds to most regional crises. The US Navy is the largest and most powerful navy in the history of the world and is a key component to protecting commerce and American interests across the globe. The Navy maintains a large presence throughout the US, even in cities and regions far from the ocean. They provide the Marine Corps with support services such as medical personnel, transport, and logistics. The Marine Corps and the US Navy make up the Department of the Navy and jointly report to the Secretary of the Navy. The Coast Guard also coordinates closely with the Navy, posting law enforcement personnel on some Navy ships. The budget for the Navy is around $150 billion in the current day.
The Navy employs some 500,000 uniformed personnel and a number of civilians. A central body keeps it afloat; the Fleet Forces Command. Fleet Forces Command supports fleets and functional commands like US-CYBERCOM, the Navy Reserve, Special Warfare Command, and Operational Test and Evaluation Force (OPTEVFOR). Fleet Forces Command is responsible for the Military Sealift Command, which manages most of the Navy's transport ships. This can transport vast amounts of cargo, military forces, and civilians rescued from disaster. There are six fleets total; Third Fleet (West Coast and Pacific), Fourth Fleet (Central and South America), Fifth Fleet (Middle East), Sixth Fleet (Europe, the Mediterranean, and Africa), Seventh Fleet (South Asia, Central Asia, East Asia, and the Pacific), and Tenth Fleet (which supports the Navy's Cyber Command). In general, the Navy operates three type commands for each fleet. These are an air force, surface forces, and submarine command.
USN Operatives
A member of the Navy is called a sailor. They rely on a large number of skilled tradesmen, technical operators, and construction personnel to maintain its ships, aircraft, equipment, and buildings. Technical specialists are in high demand in the Navy, everything from radar operators, aircraft technicians, and nuclear and electrical engineers to medical doctors, criminal investigators, and psychiatrists.
Maritime conditions complicated many jobs. For example, Explosive Ordnance Disposal (EOD) specialists are expected not only to disarm bombs or minds, but to do so in SCUBA gear while battling high currents and low visibility. The Navy provides support personnel to the Marine Corps, primarily hospital corpsmen who serve with Marine units as field medics. Surface warfare sailors are the most numerous and visible of Navy personnel. They serve on ships and bases around the world. Surface warfare sailors see themselves as the "real" Navy.
Naval aviators and air crews are rarer and often act as if they are part of an exclusive community. Navy pilots consider themselves even more elite than their Air Force colleagues. Air Force pilots get a stationary runway; Navy aviators have to land on a piece of metal on a moving ship. Submariners operate on different cycles and with significantly more secrecy than the others and can be insular by comparison.
Example Professions

Naval Criminal Investigative Service
- The NCIS performs criminal investigations on behalf of the Navy and Marine Corps. About half its 2,500 employees are civilian special agents, supported by analysts and forensic experts. A few counterintelligence investigators are Navy reservists.
Explosive Ordnance Disposal (EOD) Group One
- EOD techs disarm all types of ordnance, including improvised, chemical, biological, and nuclear weapons. They are expected to forward deploy with any type of unit, including special operations forces. Navy EOD techs are also elite divers.
Hospital Corpsman
- The Hospital Corps provides highly trained enlisted medical personnel to Navy facilities and vessels and to the Marine Corps. They are often embedded with Marine units and forward deployed.
"There are no great men. There are only great challenges which ordinary men are forced by circumstances to meet."
- Fleet Admiral William F. Halsey of the US Navy
---
The U.S. Marine Corps (USMC)
The Marines are the US military's power projection and shock force. They specialize in opening beachheads and service as advance forces. Unlike the Army, they do not focus on securing territory. They are a component of the Navy and are designed to work closely with naval forces for transportation, support, operations, and logistics. The Marines operate bases throughout the US and in allied countries like Japan. Marine Expeditionary Units (MEUs) are typically stationed at sea, allowing them to respond swiftly to international incidents. In peacetime, the Marine Corps are often given non-combat missions such as evacuation of Americans from unstable countries and providing humanitarian aid and disaster relief. In the current day, their budget is around $40 billion.
The Secretary of the Navy oversees both Marines and the Navy. The most senior Marine office that answers to the Secretary is known as the Commandant. The Marines are organized and operate differently from larger branches. They are an unofficial fourth branch of the military, with their own budget, unique equipment, and culture. The USMC has around 200,000 uniformed service personnel and another 100,000 in reserves.
The Marine Corps is organized into four principal subdivisions; the Headquarters, the Operating Forces, the Support Establishment, and the Reserves. Operating Forces are divided int Marine Corps Forces (MARFOR) assigned to regional and functional Combatant Commands, Security Forces guarding high-risk naval installations, and Marine Security Guards (MSGs) at US embassies. Marine doctrines emphasize speed and power. The Marine Air Ground Task Force (MAGTF), the basic structure for deployed units, integrates a ground combat element, an aviation combat element, and a logistics combat element under a common command element. More than any of the other services, the Corps integrates close air support, armor, and artillery in support of the infantry. Marine operational units tend to be smaller but more versatile than the US Army, which allows the Marines to deploy quickly and remain self-sufficient. They tend to shy away from high-tech equipment due to a tight budget and the expectation of rough conditions with little outside support. Their gear is old but reliable.
USMC Operatives
A member of the Marine Corps is known as a Marine, a Leatherneck, or a Jarhead. Training is grueling with a high washout rate. Recruits are physically and mentally pushed and tested. the old way of doing things is stripped away, replaced with the Marine way. Tough training builds high morale and pride in the Corps.
"Every Marine is a Rifleman" is the corps' main motto. Every Marine is expected to keep up marksmanship skills, including pilots and support specialists. Marines have a wide range of specializations, but all are focused on combat missions. Fixed wing and helicopter pilots, combat engineers, construction personnel, police, vehicle drivers, and the infantry are all common specialties. Sharing functions and equipment with both the Army and Navy ensures the Marines are well positioned to work alongside those branches.
They are focused outside of the US. One third is forward deployed outside, primarily in Okinawa, Japan. They are utilized more often in counterterrorism operations where small, special operations units are insufficient. Tight funding makes non-combat deployment of Marines relatively rare. The USMC restricts travel funding for all except officers. Marine officers have less leeway for initiating their own field operations than their counterparts in the other branches.
The smallest infantry unit is the four-man fireteam. A fireteam has a team leader who is equipped with a rifle and underslung grenade launcher (called "Team"), a support gunner who uses a machine gun (called "Fire"), and two riflemen, one who carries additional ammunition for the machine gun (called "Assist") and one who acts as a scout (called "Ready").
The Marine have a reputation of being rough, unruly, and violent. When interacting with non-Marines, a Marine must often overcome some level of their personality.
Marines are elite warriors. They have been accepted into an organization with a long, illustrious, untarnished history. They are expected to know and study the Corps' history. They are expected to exude confidence. They are expected to meet exacting standards in their appearance even off base. Their haircuts are conservative, their clothes are well pressed, they stand straight, and everything is tidy. They are forged in centuries of trial and error and there is a right way and a wrong way to do things. From their first days in Basic Training, they are taught the Marine way of thinking; quick, decisive, and with a reliance on training. They aren't automatons, however. "Improvise, Adapt, and Overcome" is an unofficial motto. Unanticipated problems and challenges arise and they are drilled to fall back on knowledge and training to figure out the best and most expeditious way to resolve any problem. It doesn't matter if it's pretty. Strength and confidence is encouraged. "Alpha" personalities means that Marines are less likely to seek help with trauma inf ear of admitting failure or weakness and letting down their fellow men.
The official motto of the Marines is "Semper Fidelis" (Semper Fi) which means "Always Faithful." Marines respect the Corps and love the United States. They are bonded by physical and mental toughness. The only people that can understand them are their closest family members and other Marines. The sense of community extends across generations. Once a Marine, always a Marine. The term "ex-Marine" is only used for those dishonorable types who have left the Marines. From the outside looking in, Marines can look cultish. The process of building a closed and select group of like-minded people with an "us against the world" mentality has a lot in common with indoctrination techniques. For most Marines, the order of identity goes God, country, Corps, family, and self. Most Marines are happy to move on from that ethos once their term is done, but others stick with it for life.
Example Professions

Force Reconnaissance Company (FORECON)
- Force Recon detachments are light infantry units that perform deep reconnaissance, intelligence gathering, raiding, and forcible boarding/seizure operations.
Division of Public Affairs Combat Camera
- Combat Camera documents Marine experiences for use in public relations, intelligence, and training.
Maritime Special Purpose Force
- This unit supports larger elements of the Navy, Marines, and SOCOM with high-firepower surgical insertion and raiding capabilities. The MSPF is sometimes called upon for hostage rescue.
Marine Corps Security Force Regiment
- The Security Force regiment provides security at high-value Navy facilities, such as those containing nuclear submarines and nuclear weapons. It houses two rapid response units, the Fleet Antiterrorism Security Team (FAST) and the Recapture Tactics Team (RTT). RTTs operate like SWAT units at particular facilities, while FAST teams deploy around the world to augment the defense of US government installations.
"If I charge, follow me. If I retreat, kill me. If I die, revenge me."
- US Marine Corps
---
The U.S. Coast Guard (USCG)
The Coast Guard patrols the maritime borders, ports, and rivers of the United States. They prevent unauthorized vessels from entering, respond to maritime disasters, and conduct search and rescue operations. They occupy an odd space between the military and federal law enforcement and have a mandate that applies to both. They are a member of the armed forces but are a part of the Department of Homeland Security and the only branch with arrest powers. They are referred to as "sailors" and "coasties."
They can be transferred to the Navy by the President or Congress during times of the war. They employ 40,000 active duty personnel, with another 18,000 civilian employees and reservists. The Coast Guard auxiliary employs another 30,000 civilians as specially trained support personnel. They are divided into two area commands, the Atlantic Area Command and the Pacific Area Command. Each includes sub-district commands with their own assets like cutters, boats, aircraft, installations, other vehicles, and equipment. Aside from the area commands, functional commands provide support, intel, and training at the Coast Guard Headquarters in Washington, DC. This includes Intelligence and Criminal Investigations, Response Police, Command/Control and Information Technology, Prevention Policy, Operations, and administrative commands like Human Resources, Acquisitions, and Engineering and Logistics.
Specialized units respond to high threat or difficult circumstances. These answer to area commands including the Helicopter Interdiction Tactical Squadron (HITRON), Port Security Unit (PSU), Tactical Law Enforcement Teams (TACLET), the Maritime Safety and Security Teams (MSST), the Maritime Security Response Team (MSRT), and the National Strike Force.
HITRON is an armed helicopter squadron specialized in the use of force to disable hostile watercraft. TACLETs conduct boarding, interdiction, and armed security operations. The PSUs are manned by reservists that rapidly deploy patrol boats to protect installations. The MSST use armed and transportable patrol boats. The MSRT is the USCG's SWAT equivalent. The NSF provides tech personnel to respond to oil spills, hazardous materials releases, and weapons of mass destruction incidents.
USCG Operatives
The USCG invests junior officers with more operational responsibility than other branches. Instead, they are empowered to lead, especially when deployed. This fosters self-reliance and confidence. Training is not as strongly emphasized because its personnel are always on missions. These missions include maritime safety, security, and stewardship. They also participate in border protection, maritime law enforcement, search and rescue, marine environmental protection, and the maintenances of river, coastal, and offshore Aids to Navigation. They patrol all coastlines including Alaska, Hawaii, Puerto Rico, and other territories and protectorates. They also work closely with the Navy.
They are best known for search and rescue missions. Daily responsibilities include maintaining location buoys and maritime navigational aids as well as inspecting suspected toxic spills or failing infrastructure. The National Response Center (NRC) is the primary point of contact for reports of these in the US.
The USCG is generally seen as competent and effective if a little slow in producing paperwork. However, they do come into conflict with other agencies when mandates and jurisdiction overlap. USCG workers understand responsibility. The unofficial motto of the Coast Guard is "You have to go, but you don't have to come back." They are unrelenting and take pride in their work, they get things done. They have a lot of faith in leaders and are most comfortable working in a group. They value practical solutions to problems. They prefer to ask forgiveness rather than permission. They are taught that they aren't heroes; this is drilled out of them immediately.
Example Professions

Search and Rescue Team (SAR)
- The heart and soul of the Coast Guard. They are expected to face the worst environmental conditions head on to save lives.
Office of Response Policy
- Works closely with other branches to create joint counterterrorism programs and training opportunities. They are the primary point of contact on counterterrorism missions involving the USCG.
Office of Investigations and Casualty Analysis (INV)
- INV builds detailed cases analyses of deaths or serious injuries that are the result of Coast Guard operations.
The Helicopter Interdiction Tactical Squadron (HITRON)
- HITRON combines the mobility of a helicopter with some of the military's best and most experienced sharpshooters.
Tactical Law Enforcement Team (TACLET)
- Deploy aboard US and allied naval vessels to conduct maritime law enforcement missions.
Maritime Safety and Security Team (MSST)
- Patrol waterways around large ports.
Maritime Security Response Team (MSRT)
- A waterborne SWAT team that boards and secures vessels held by terrorists.
National Strike Force (NSF)
- These teams mitigate disastrous oil discharges, arduous releases, and other environmental related emergencies. They are based in Alabama, California, and New Jersey.
"We do this job because every once in a while someone is out there without hope, desperately praying for their life, and we get to be the answer."
- US Coast Guard
---
U.S. Special Operations Command (SOCOM)
SOCOM coordinates US special operations around the world. They were born as a result of special operations forces (SOF) in 1980 failing to free American hostages from the Iranian government. Their role has increased dramatically since 9/11 and is involved with the most operations that any sort of SOF aspect. Their budget is approximately $8 billion in the current day; likely more due to black book funding.
SOCOM also has direct operational control of such forces as the Army's Delta Force, the Navy's Special Warfare Development Group (SEAL Team Six), the Marine Raider Detachment, and the Air Force's 24th Special Operations Wing.
SOCOM is a Unified Combatant Command within the Defense Department. The SOCOM commander answers directly to the Secretary of Defense. SOCOM not only gains temporary operational control of a service's special operations forces during a joint mission, it maintains full time operational control of the most elite special operations forces in the world. SOCOM's component command, the Joint Special Operations Command (JSOC), trains, helps to equip, and coordinates SOF units involved in SOCOM missions. SOCOM also operates the US Army Intelligence Support Activity as an in-house intelligence unit that focuses on collecting HUMINT (Human Intelligence) and SIGINT (Signals Intelligence) for DEVGRU and Delta Force. Special Operations Command-Joint Capabilities (SOC-JC) is the training wing of SOCOM and JSOC.
In non-combat situations, the command structure for SOCOM becomes muddled. They face a complex reporting structure; to SOCOM, then another Combatant Command, and then the unit's service command (such as Army Special Operations Command). For leadership, there is a constant push-pull regarding the need to detail mission parameters to as few people as possible, but also to secure the approval and resources of the service branches' own special operations commands.
SOCOM Operatives
Training is the secret to being a special operator. Again and again, over and over and over. Commanders want to make sure every operator maintains composure during stressful situations, not just combat. Hyper realistic training regimens push the operator past the brink of mental and physical breakdown. Leadership demands that operators know their breaking points. Not only are they drilled in combat, survival, and field knowledge, but also to serve as intelligence collectors. They are trained to resist combat if caught. They are skilled in techniques for quickly and effectively interviewing sympathetic locals for critical information and how to report that information for maximum utility.
SOCOM is particularly focused on anti-terror operations, but they are also equipped and trained to deal with non-conventional and asymmetrical missions. SOCOM's missions include direct action, hostage rescue, extraction and rendition, reconnaissance, training guerillas, unconventional warfare, psychological warfare, civil affairs, and counter-narcotics operations. They operate within the US only under heavy security. These are always classified operations. SOCOM is deployed domestically only when the national security risks outweigh potential public backlash and uncomfortable congressional inquiries. These missions target serious and extremely dangerous threats - all of which will involved grave national security implications if not eliminated. Domestic operations must be approved at the Joint Chiefs level.
SOCOM operates under Top Secret or higher clearance. They have a wide grasp in terms of equipment and support and can pull in resources from across the US government. They are usually staffed and equipped in advance; the nature of the mission is dissected and wargamed; equipment is identified and assigned. Most missions are expected to go in with the equipment given but operatives are still to travel light. Not only that, but most SOCOM operatives know of black sites the US government holds to hide anything they need to (such as a body).
When SOF has the luxury of operating freely, SOCOM's resources are formidable. Air and missile strikes, "stealthed" extraction, drone cover, vehicles, resupply, specialized mapping or geospatial intelligence, and large amounts of currency are all available. The biggest issue isn't with availability; it's with time. Top-end or specialized requests must be reviewed and dispatched, and the delivery can be slow in a dynamic or deteriorating situation.
SOCOM's Intelligence Support Activity (ISA) and the CIA often find themselves at loggerheads. The CIA wants to retain its position as the lead intelligence agency in the US and demands constant briefings on the intelligence-related activities in SOCOM. ISA, on the other hand, is never enthusiastic about cooperating with the CIA. The CIA doesn't believe the USA understands its junior position and the ISA believes that the CIA is redundant and bloated. Information and intelligence sharing is helped along between JSOC and the CIA's SAD/SOG. The complex command structure of SOCOM poses a recurring challenge; in many cases, operatives report to three or more commanding officers at different points around the globe and possibly an ambassador as well. Each service component tries to assert its influence, which can lead to mutually exclusive orders and more paperwork.
Special operators have quick minds, strong bodies, and world-class organizational resources behind them. There are very few people in the world that could do what they do. They aren't here for respect; that was beaten out of them in their qualification. This is exciting; they are at the top of their game. When in doubt, decisive and forceful action is made by special operators. They are prepared for anything and they are confident there is nothing they can't handle. They value intelligence and preparation, so you plan to not be put into dumb situations. They respect people who get things done. Talking for the sake of it doesn't impress them, titles and awards don't impress them, and neither does red tape. People who get shit done are impressive. They physical and mental demands of this are grueling; but special operators compartmentalize it all so they don't interfere with the bigger picture.
Example Professions

Air Force, 24th Special Operations Wing / 720th Special Tactics Group -
The 24th houses a number of Special Tactics Groups like the 720th. The 720th conducts combat search and rescue missions, collects intelligence, and calls in close air support or airstrikes against enemy combatants - all behind enemy lines.
Army, 1st Special Forces Group (Green Berets)
- The Army's Special Forces groups are light infantry tasked with asymmetrical missions including unconventional warfare, training friendly foreign troops, reconnaissance, direct action, counterterrorism, and search and rescue. Operational Detachment Delta, called Delta Force, is designed to operate deep in hostile territory and perform intelligence-gathering, recon in force, direct military action, search and rescue, and seizure of key installations.
Army, 75th Ranger Regiment -
The Rangers specialize in raiding and forcible seizure of critical installations or assets.
Army, 4th Military Information Support Team (MIST) -
MISTs deploy into countries with active groups that have ideologies hostile to the US and work to undermine those ideologies through psychological operations and material/monetary support of friendly organizations.
Army, 160th Special Operations Aviation Regiment (Airborne) -
The 160th SOAR (A) consists of the Army's best qualified aviators and support soldiers. The "Night Stalkers" provide a wide range of helicopter-borne support for SOCOM, including high-risk attacks, insertions, and recon.
Army, Intelligence Support Activity (ISA) -
Operating under many codenames, the ISA is composed of special operators with extensive specialized training in recon and intelligence gathering.
Marines, Raider Regiment
- Formerly the Marine Special Operations Regiment (MSOR), the Raiders are an asymmetrical anti-terror unit that has the additional capability to operate on its own in hostile environments. The Raiders have been called upon to conduct hostages rescues, gather intelligence, and train deadly forces.
Navy, Special Warfare Development Group (DEVGRU) / Naval Special Warfare Group One (SEALs) -
DEVRGRU and SEAL (Sea, Air, and Land) teams are exceptionally trained small units that can execute lightning quick operations in all environments. These teams specialized in high-risk anti-terror operations and hostage extraction. Where the Army trains to work with local forces and populations, the SEALs train strictly for combat.
"You're my home. I will find you." - Aleksandr Voinov